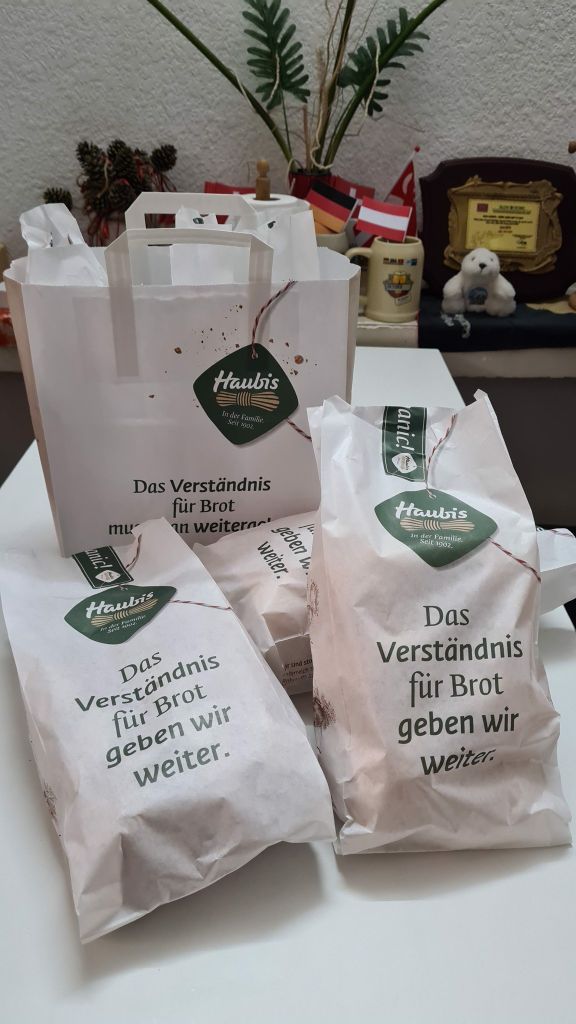 WHY HAUBIS? TẠI SAO PHẢI LÀ BÁNH MÌ HAUBIS?
Certified quality from the field right into the bakery!
BREAD IS OUR CULTURE
- A PROUD TRADITION FOR GENERATIONS
"By working with only the finest ingredients, time-honored techniques, modern baking technology - and doing an honest day's hard work. That's how we guarantee bread of the highest quality' - Anton Haubenberger - Founder of Haubis
1. 100% made in Austria with Austrian natural ingredients with almost 120 years of family baking tradition through 4 generations
2. Using sourdough and natural yeast for all breads
3. Natural grains (wholemeal, wholewheat, rye flour), seeds and nuts
4. Baked with pure natural spring water, table salt and untreated rock salt from the local mines
5. No preservatives, no additives, no coloring, no added sugar, no butter, no eggs, no milk sugar
6. Variety of Organic (Euro Bio Standards), Gluten-free (handmade, AOECS Standards), Lactose-free, Vegan breads
7. Facts of ingredients
8. Certifications based on European and International standards
9. Delivered in environmental friendly paper bags (degradable and can be dissolved in water)
ORDER for DELIVERY
---------------------
Chất lượng được chứng nhận từ ngoài đồng vào tận xưởng bánh!
BÁNH MÌ LÀ TRUYỀN THỐNG VĂN HOÁ CỦA CHÚNG TÔI
- TỰ HÀO LƯU TRUYỀN QUA NHIỀU THẾ HỆ
"Làm việc chăm chỉ trung thưc mỗi ngày chỉ với nguyên liệu tốt nhất, kỹ thuật được tôn vinh theo thời gian, công nghệ làm bánh hiện đại - đó là cách chúng tôi đảm bảo cho ra lò bánh mì chất lượng cao nhất'' - Anton Haubenberger - Nhà sáng lập Haubis
1. 100% nguyên liệu tự nhiên được sản xuất tại Áo với kinh nghiệm làm bánh gần 120 năm gia truyền qua 4 thế hệ
2. Sử dụng men và bột chua tự nhiên cho tất cả sản phẩm bánh mì
3. Hạt và ngũ cốc tự nhiên (bột lúa mạch, lúa mì nguyên cám, lúa mạch đen)
4. Sử dụng nước suối thiên nhiên, muối mỏ thiên nhiên thuần khiết không qua xử lý
5. Nói không với: chất bảo quản, chất điều vị, phẩm màu, đường lactose, bơ động thực vật, trứng
6. Đa dạng bánh: Hữu cơ (Tiêu chuẩn Châu Âu Euro Bio), Gluten-free (làm thủ công, Tiêu chuẩn AOECS), Lactose-free, Thuẩn chay
7. Giấy chứng nhận đạt chuẩn Châu Âu và Quốc tế
8. Đước giao hàng trong túi giấy thân thiên với môi trường (rã trong nước và dễ dàng phân huỷ)
ĐẶT HÀNG giao
#austrianbread #germanbread #darkbread #ryebread #sourdough #pretzel #bretzel #brezln #organic #glutenfree #lactosefree #vegan
16.077
People reached
1.487
Engagements